This is it,
Travels to Angkor, Siem Reap, Cambodia: Part V
, documenting day 5 of our trip and is also the lsat of the five part series. To get a full account of the events of earlier days, visit:
Travels to Angkor, Siem Reap, Cambodia: Part I
Travels to Angkor, Siem Reap, Cambodia: Part II
Travels to Angkor, Siem Reap, Cambodia: Part III
Travels to Angkor, Siem Reap, Cambodia: Part IV
Day 5 was not actually the last day of our trip to Cambodia, but the second last. Since we left on the next day early morning, a 7a.m. flight, day 5 became the actual last full day we spent there. We did not have any trips or itinerary planned for the day, so we got up rather late and had breakfast at around 9am. We had the same usual breakfast for the last time and off to spent our day in Siem Reap town.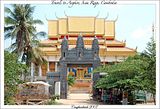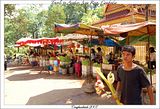 Right shows stalls outside the temple selling fresh flowers for devotees.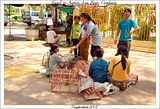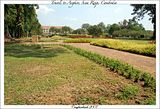 Left shows devotees buy birds to be set free.
Right shows a park should not appeal to the locals.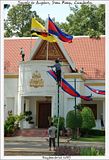 I guess it was near New Year, left shows flags being hung outside a government building. The guy from below will throw the flag up to the guy at the top of the ladder, which he will then hang it on the pole.
Right shows an image of what seem to me like the queen or something.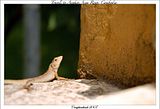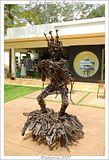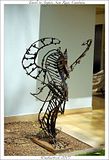 Outside this hotel/restaurant/spa/gallery, there were sculptures that were made using parts of guns.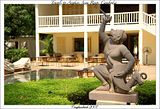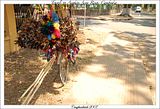 Left shows a monkey god holding a brush and book at the hotel/restaurant/spa/gallery place.
Right, need a feather duster or cane?
Left shows the 'river' that cuts through Siem Reap town.
Left shows a carpenter's workshop that sells furnitures as well.
Right, outside a modern temple.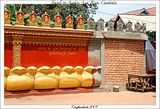 The painting of the temple has yet been completed.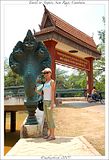 Opposite the temple is a modern 'naga' bridge that cuts across the 'river.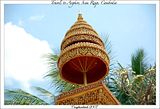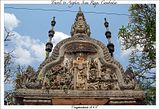 More of the modern temple.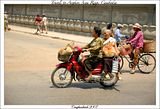 We soon found ourselves at the
Old Market
again. This time we did some really serious shopping. I bought myself a neat looking North Face waist pouch for my DSLR and a pair of Puma sneakers at a steal.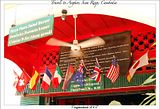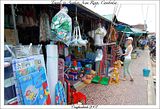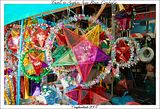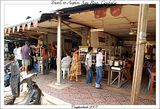 Middle, the colourful lantern seems to be something special for the New Year.
Right, a cooked food stall selling really budget local food, no extreme gastronomies but the cleanliness is really challenged.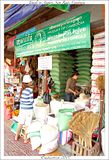 Selling rice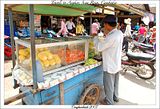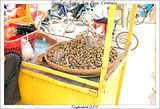 Left shows a pull cart fruits seller, I hope the ice that the fruits are sitting on are clean.
Right, anyone for a local street snack, french style, snails.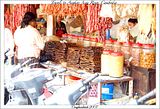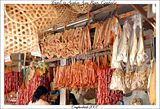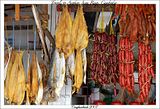 A variety of preserved meat are sold in the market.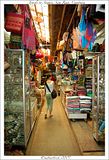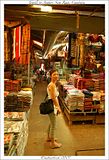 Walking though a network of souvenier stalls.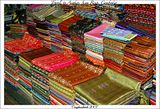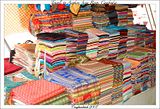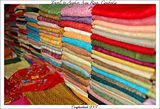 Not the finest grade of Khmer silk but a relatively cheap but attractive range is available at the market.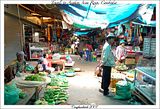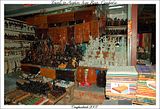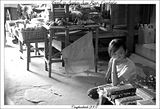 Left, the wet market area. Middle shows a shop selling replicas of religious sculptures.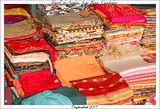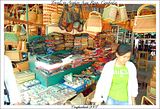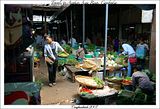 Left, more silk scarfs. Right, wet market.
Left, a basket of lotus fruit. Right, looks like fish cake.
We visited
The Blue Pumpkin
again and this time, we were early. We got a real good position on the tall couch on the second level's Cool Lounge. This time, I was all so trigger happy on my D50 that later, some one started to follow what I was doing and started snapping his food with his EOS1D. Oh no, I have forgotten the names of the food that I had eaten!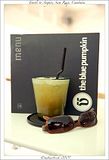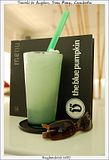 Left, I had their health drink, some lemongrass tonic.
Right, Fio had the same ice blended lemon juice.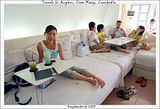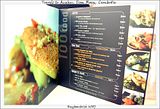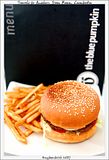 Left, Fio had this pasta which I think is some Ravioli with bacon.
Middle and right, I had a beef burger with fries! Nice grill with a smokey taste at every single bite on the juicy patty.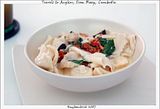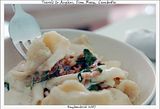 Ravioli tasted right! Not too heavy and not too dilute.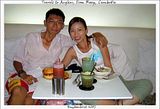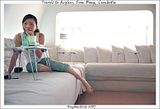 Relaxing on the cool couch, after the lunch crowd has left.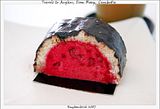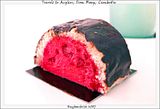 A sweet treat to finish it.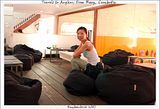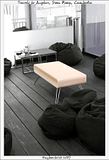 We were back on the streets. With all the food heavy in our tummy, we needed to walk around to digest. Fio decided to go for an hour-long Khmer style foot massage for US$6, apparantly, the full body massage costs the same as well. I did not try as I was always ticklish about massage. According to Fio, it was unlike any of our foot massage where the masseur presses your sole hard, giving you a nasty scream and then diagnose any potential health problems.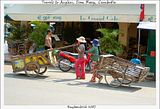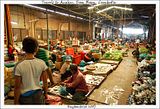 Left shows two garang-guni.
Right shows the wet market, again. Not that I was going to buy something, but just that I was interested the way they operate.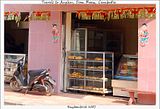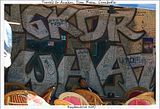 Left shows a chinese bakery. Right shows a famous cafe/pub, Angkor What!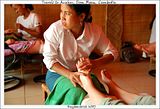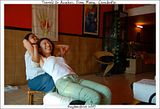 How did the foot massage end up in a wrestling match?
We thought we should really stop roaming the streets and decided to go for a coffee and a snack at
Le Grande Cafe
at 5pm.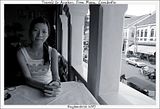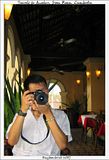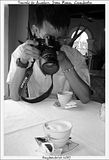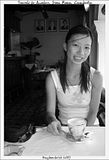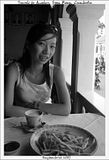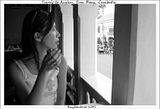 We had fun snapping in B&W.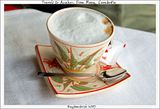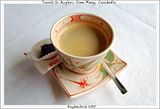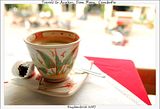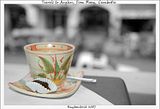 Coffee anyone?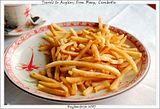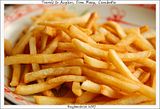 A plate full of fries.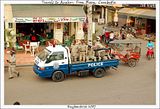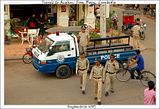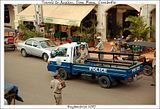 While having coffee, we witness a police truck stopping by and nabbing illegal peddlers/hawkers in the streets.


We had a dinner at around 7pm at Why Not? restaurant. It was an open-facade restaurant that serves a comprehensive range of Khmer and western food at a real cheap price. We ordered a Tom Yum soup and a sweet-and-sour fish. Our last dinner was nothing too fantastic, just a simple but rather good one.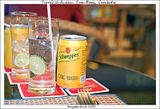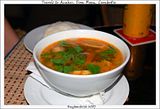 Thank you for viewing my Travels to Angkor, Siem Reap, Cambodia collection.